Caveday vs Focusmate: Find your ideal virtual coworking space!
Caveday and Focusmate compared - find out which virtual coworking space to choose!
What do the remote employee pushing to meet their weekly deadline, a Ph.D. student writing their dissertation, and a freelancer getting their business off the ground all have in common?
They all work by themselves! And while COVID-19 has gone a long way in normalizing it, I think even the most dedicated lover of remote work would accept that it's not always easy!
Don't get us wrong, we love remote work. At Boss as a Service, we're a fully remote team!
But we have to admit, occasionally, it gets a little isolating. Sometimes, you miss the buzz and bustle of activity that comes from sitting at an office. And it's so difficult to be productive all by yourself! Working from home is comfortable (yes, you don't have to get out of your pajamas) but it's difficult to always stay focused and keep your mind on work. Too many distractions! Focus, especially focus on demand, is hard to achieve.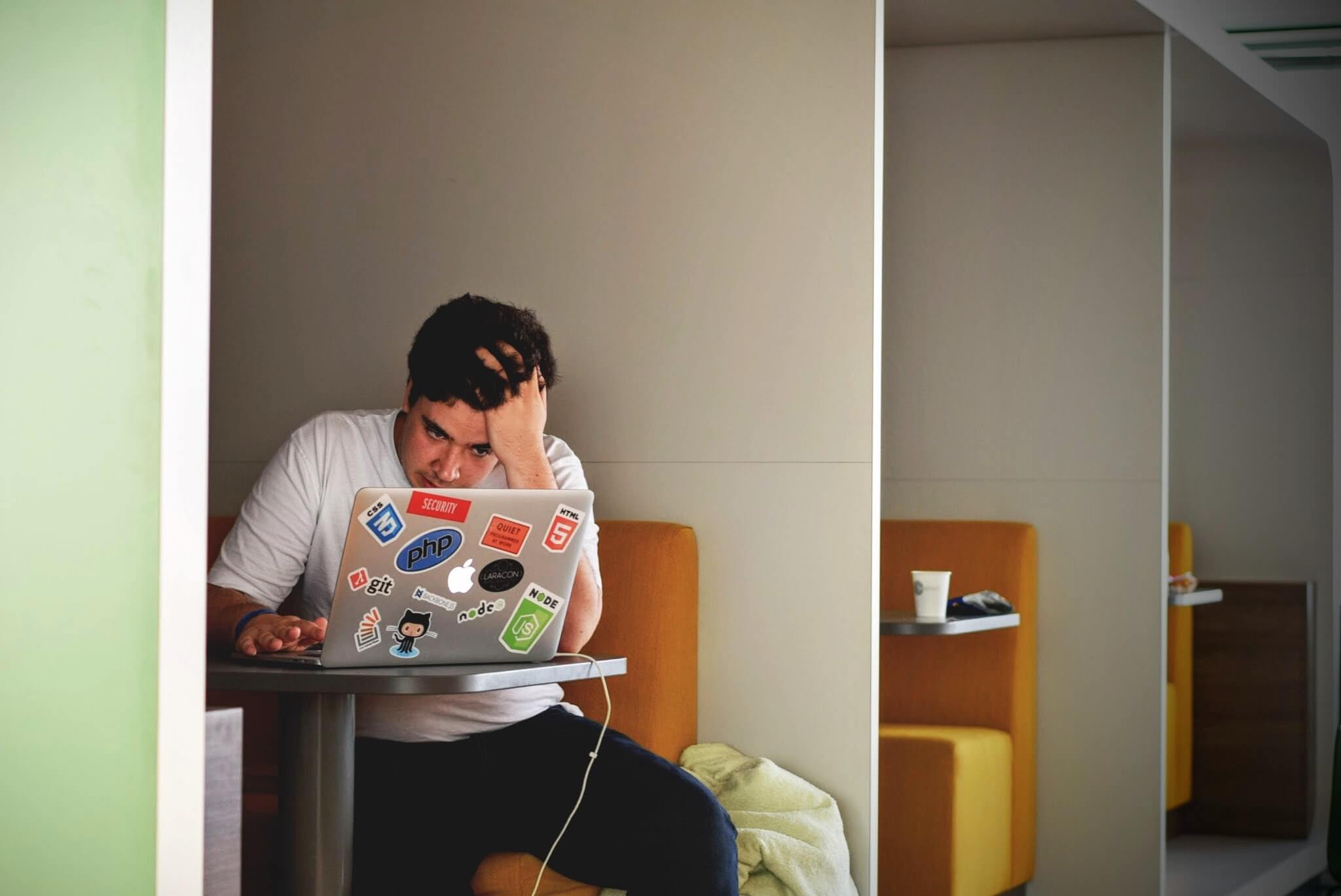 And yet, we know the value of deep work, how focused work can not only get you through your to-do list faster, but has lasting benefits on health, stress levels, and overall wellbeing.
Luckily, several solutions have come up and are becoming increasingly popular to help people work effectively away from the office -- one of the most interesting being coworking in virtual spaces! If you work alone, and have been craving the human connection and productivity spike working with others can bring, join thousands of people who've discovered the magic of body doubling and focus sessions.
What is virtual coworking?

Coworking is not a new concept. It means being in a shared space -- an open office, library or cafe atmosphere -- with work associates, and friends. Or sometimes, in the case of coworking spaces, complete strangers, with everyone concentrating on their own projects and work.
Virtual coworking is very much the same, with some slight tweaks. A virtual coworking space means you're connected to other people over the internet, usually with your camera and microphone on, so you can be right at home when in a session. And second, you don't have too many people around you, so that means fewer distractions and more focus.
🙌
Looking for someone to keep you accountable? Check out
Boss as a Service
– we match you with a personal Boss who'll chase you up and take you to task if you're slacking off!
The Difference between Physical and Virtual co-working sessions

While physical and virtual coworking is both a great way to work, the latter has some additional features and incentives:
First, virtual coworking spaces are easier to access. If you want to book a focus session, you don't have to worry about finding a coworking space near you, getting there, checking if there's a free table, and all the other things that may disrupt the flow of your workday.
In the same vein, sometimes coworking rooms charge extra for wifi, food, or for staying for longer hours. In a virtual session, you already have these provisions set up and ready to go, at home.
But more importantly, in a virtual session, you control the setting, so you can give yourself the best chance of staying focused without getting distracted by external stimuli like the sounds of people around you. You can also choose the level of interaction you want, which means you can choose to make small talk or not and just get on with your work session.
Facilitated work sessions through a virtual coworking space

Virtual coworking spaces are a great productivity tool for people who like working from home but are easily prone to distraction and procrastination. They bring in a level of accountability to ensure you're actually working when you need to, focusing on your tasks and getting them done in time. As a bonus, they also help you feel less alone -- one of the common challenges of remote working. Join other committed folks to work together, and open up chances for some interaction to keep you energized, social, and alert.
Now if you're intrigued enough to want to book a session, check out Caveday and Focusmate.
How Caveday works
Caveday works on two principles -- monotasking and deep work and facilitates coworking sessions through Zoom.
Here's how it works: You connect to join a 1-hour long focus session or "sprint" in a "cave" or Zoom. Prior to joining, you have to pick one or two (max!) tasks that you will concentrate on for the sprint, and arrange to keep all distractions at bay. This means keeping your phone away, turning off YouTube or streaming platforms, and finding a room where you won't be disturbed.
Once you enter a cave, you'll have 45-52 minutes of focused work, and then a short break to connect with other users, do a quick stretch, or get a coffee to re-energize.
Cavday ensures you're prioritizing your tasks and giving them distraction-free attention, spending longer time on one task, and taking a little breather every hour.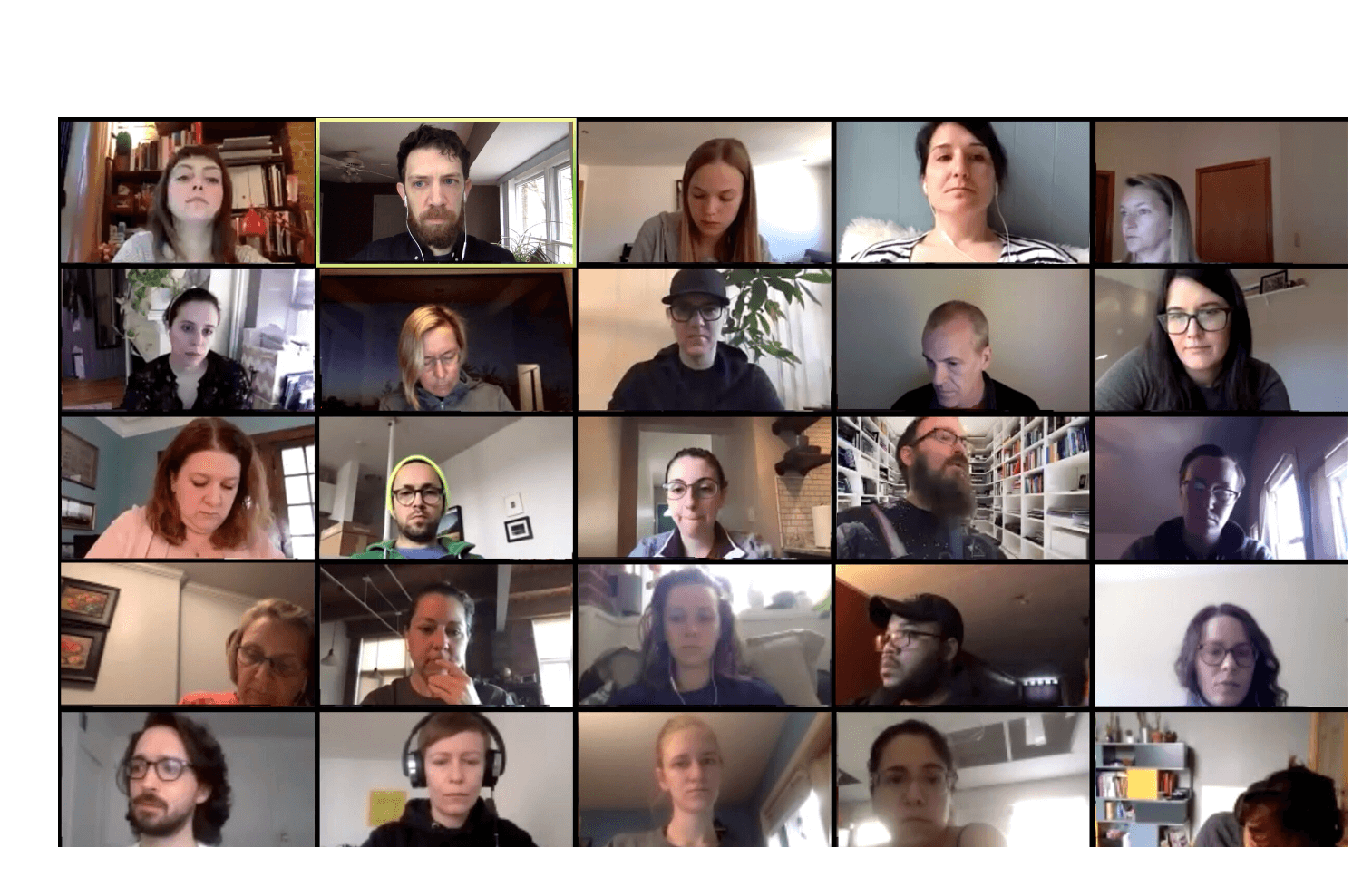 How Focusmate works

Focusmate is all about body doubling and lets you book one-on-one video work sessions with another user.
Here's how it works: Book a session on the platform and set your ideal times. The app will match you with another user who's picked the same session. Once it starts, you can introduce yourself to your accountability partner, share what you're going to work on, and then get to it. Your partner can see you at all times -- just the knowledge that there's someone else who can see you makes a lot of people feel more accountable and more productive.
At the end of the session, you let your partner know what you've achieved, and maybe what you're planning next, as a way to keep your productivity flowing.
It's a distraction-free, more closed setting to keep you accountable. Body doubling can help you stay on task like few other things can.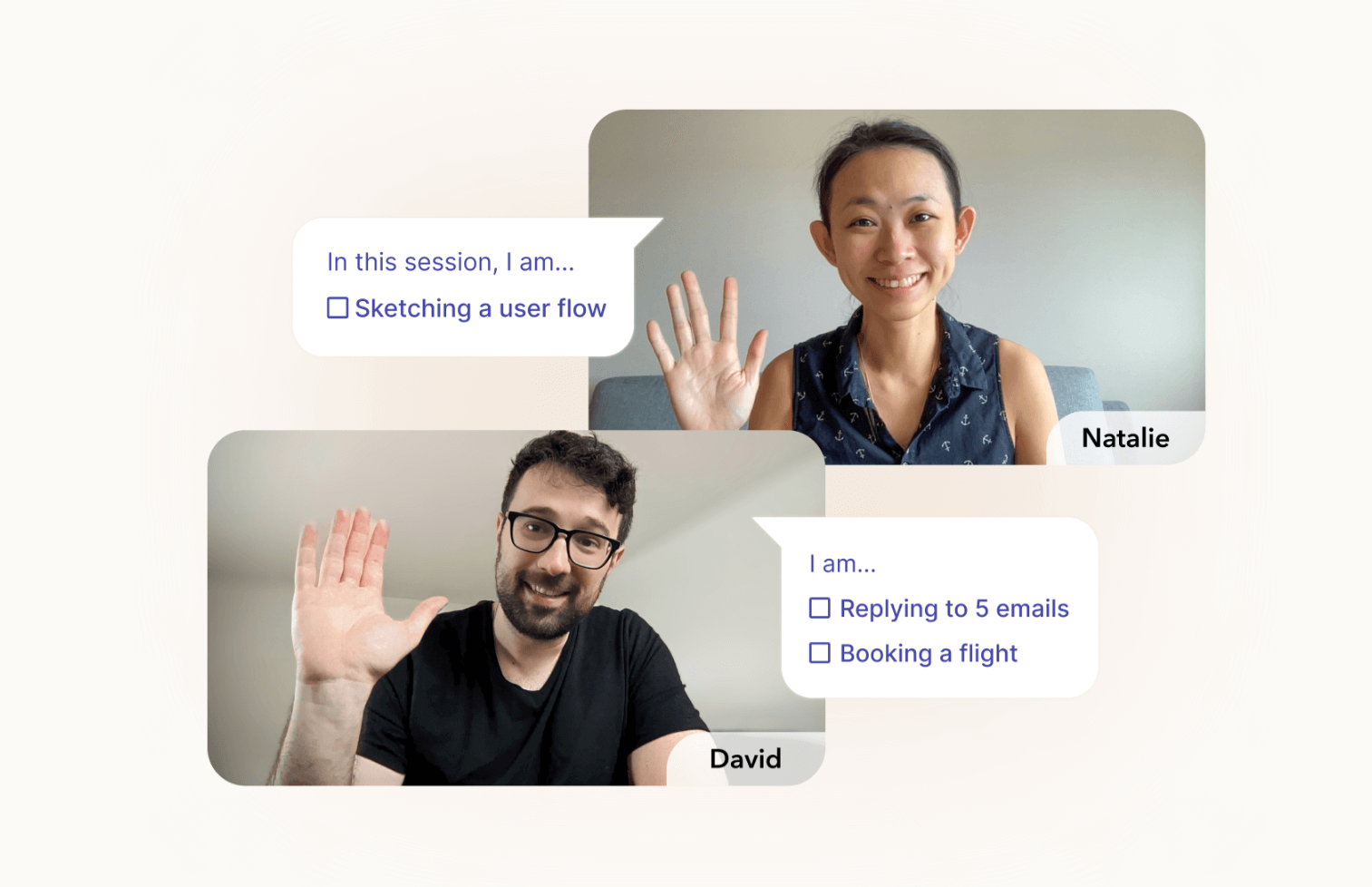 Which platform to pick

So now you know more about how Caveday and Focusmate work, but how to pick one to try? Compare based on these criteria.
Session Length
Each Caveday sprint is 45-52 minutes long. As for Focusmate, it offers Focusmate three session duration options: 25, 50, and 75 minutes.
How the sessions work:
The main difference between Caveday and Focusmate, insofar as how the sessions work, is that with Caveday, you'll join a big group of other folks. The session is led by a trained facilitator, who guides you through a check-in and check-out, and during the session (if you choose) places you in a breakout room, with a smaller group of people. So, during the session, you'll be co-working with around 2-3 other people in the room.
On the other hand, Focusmate pairs you with one individual. You'll be working with them through the session. There's no guidance from a facilitator.
So if working with a few people together, with some direction provided by a coach sounds like a good way to work, opt for Caveday! If you'd rather talk to one other accountability buddy and work with them, Focusmate is a good option.
Price
Caveday has plans ranging from $30 to $39 a month, depending on whether you go for a monthly, quarterly, or yearly subscription.
Focusmate is free for three sessions a week. If you want unlimited sessions, you can pay $6.99 for a month for a year-long plan or $9.99 for individual months.
Ease of use
Caveday is simple to book a session with, but you do need Zoom, to ensure sessions start on time and seamlessly for everyone.
Focusmate has all its features on its web platform, but it does require that your time match with someone else's, which leaves the session up to chance. Sometimes (though it doesn't happen that frequently, since Focusmate is usually bustling and busy) you may not find a partner who also chooses the same time slot as you!
Level of interaction
Caveday works with a meeting-based format, so you interact with members of a larger group and a mediator. While the work you do is yours, the end-of-session activities work best if everyone participates.
Focusmate is one-on-one, so you can keep it as quiet as you like.
If you like the thought of chit-chatting a little bit, and getting to know your partners, Caveday might be a better format for you.
If you'd rather talk to just one person, Focusmate sounds good. (Tip: this doesn't mean you can't form a community! If you enjoy working with someone, you can Favorite them to create a list of people you like working with.)
Accountability factor
Here, there are no right or wrong answers. Some people thrive in a larger group environment, while for others, one watchful set of eyes is enough. So it's about what works for you.
With both Caveday and Focusmate, you'd create a to do list of things you want to work on, during the session. And at the end of the session, you'd tell your partner(s) how it went.
How Boss as a Service works helps in virtual coworking and accountability

At Boss as a Service, we love the idea of virtual coworking spaces, and so we're happy to help clients ramp up accountability. We have a lot of users who've tried both Caveday and Focusmate, and loved them!
Here's a useful tip - if you're working with Boss as a Service (and why wouldn't you?) set up a goal with your Boss to do a minimum number of Focusmate or Caveday sessions a week. This is double accountability!