Unlock Your Potential: Choosing the Best App for Goal Setting
So many apps to choose from! Find out the best app for goal setting, tailored to your needs!
Who's to say goal setting is only for the big stuff? Everyone has lots of daily tasks to manage, whether it concerns school, work, home, or your social life. Trying to juggle them or do everything at once never works. What you need is structure so that things get done.
While working on your goals, it's useful to establish your own system – and for most people, using an app helps them organize everything and make sense of the chaos. If you're looking for the best app for goal setting in the very crowded productivity ecosystem, look no further! Depending on your needs, we rounded up the most popular choices.
In short, our top choices are:
Clickup
Strides
nTask
LifeRPG
Clockify
Coach.me (Or Boss as a Service)
Way of Life
GoalsOnTrack
Habitica
Trello
Todoist
ToodleDo
LifeTick
Amazing Marvin
Read on to see which one you should choose!
🙌
Oh, if you want to keep it simple, you can also just sign up for
Boss as a Service
. We'll give you a personal Boss who will keep you accountable, make sure you're making plans, and most importantly, make sure you're actually getting work done!
What are the kinds of goals you can set?

Daily goals
Things you have to do everyday, for instance, watering the plants, checking the news, or even making a to do list! Write these down as your daily tasks.
Long-term goals
Completion of a project at work, furnishing your house, or setting up a website by yourself--all these are longer projects that take time and require multiple steps. Put these in the long-term goals list so you can start to strategize on breaking them down into smaller steps that are more measurable and achievable.
Habits
All of us want to enforce upon ourselves good and healthy habits, like a well-rounded diet, exercise, reading, and so on. Why not put them down as goals that you can set reminders for every day, so you never fall off track?
Now that you've made a note of what you want to do, the next question is, how do we really start tracking goals and making sure we're getting them done? For this, embrace technology and sign up with a goal setting app.
Why do we need an app for goal setting?

You're probably thinking, isn't it way easier to just write down your goals on paper and stick it to your fridge? Or perhaps make a note of them on your calendar? There are a couple of caveats to that.
One, the paper on your fridge doesn't really come with reminder alarms. The onus is on you to keep checking it and making sure you're on track. Similarly, the calendar may be able to show completed tasks and show you what you had to do on the day, but it can't monitor your daily progress and tell you whether you're going right. So if you really want to stay motivated and push forward, apps may be the way to go!
How to set a good goal

SMART goals
When you sign on to your perfect goal setting app, start smart! Making a good, measurable, and productive goal is important to get going. Luckily, there's a method for this around since 1981, known by the acronym S.M.A.R.T!
Specific
The goal you set should be simple, sensible and significant. It can't just be, wake up early. Make it, wake up at 6 am for the early start you need to the day.
Measurable
You need to be able to track the goal for it to be truly meaningful and motivating. Aim to wake up at 6 am five days a week and earn two days of sleep in!
Attainable
Don't go for goals that are too far-fetched. No one knows your limits like you do, so make sure you agree with the targets you're setting yourself and that it is attainable. For instance, you can't get up and start your day at 6 am if you only go to bed at 2 am. Give yourself time to rest up and reset.
Relevant
The goal you set needs to be aligned with the bigger picture. It must take into account the resources you have, be realistic and reasonable in your life, and be focused on delivering good results. Wake up at 6 am not just for the sake of getting out of bed, but also to do something productive to start your day.
Time bound-This is key. Set yourself a deadline to complete tasks, at a specific date or time so that even if you start slow, as the D-Day approaches, you're able to find another gear and power through things.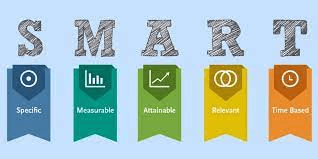 The Best goal setting and Tracking Apps to try out

So, intrigued to find the perfect goal setting or goal tracking app, but don't know where to start? Not to worry! Here's a list of the best goal tracker apps you can check out right now.
ClickUp

ClickUp is a goal management app that works best for professional work, like project management, tracking and collaboration. You can define the project goals, assign and share them with different team members, monitor the progress as you go. The app also allows you to communicate with your team and provide feedback on the work as you see it.
Pros:
It has a free version open to unlimited users
Simple interface
Customizable templates
Time-tracking and feedback features
Con:
Might not be great for smaller personal goals
Strides

For those who want to take up habit tracking, Strides is the app to go for. The app has built-in suggestions for goals you can go for based on the theme, or you can choose one yourself and set a target in terms of goal value or date. You can then use it to monitor the work you're doing to turn your daily goal into a habit.
Pros:
Flexible, simple and intuitive interface
Dashboard to see all progress bars at once
Cons:
Not available for Android devices
Complicated for first-time users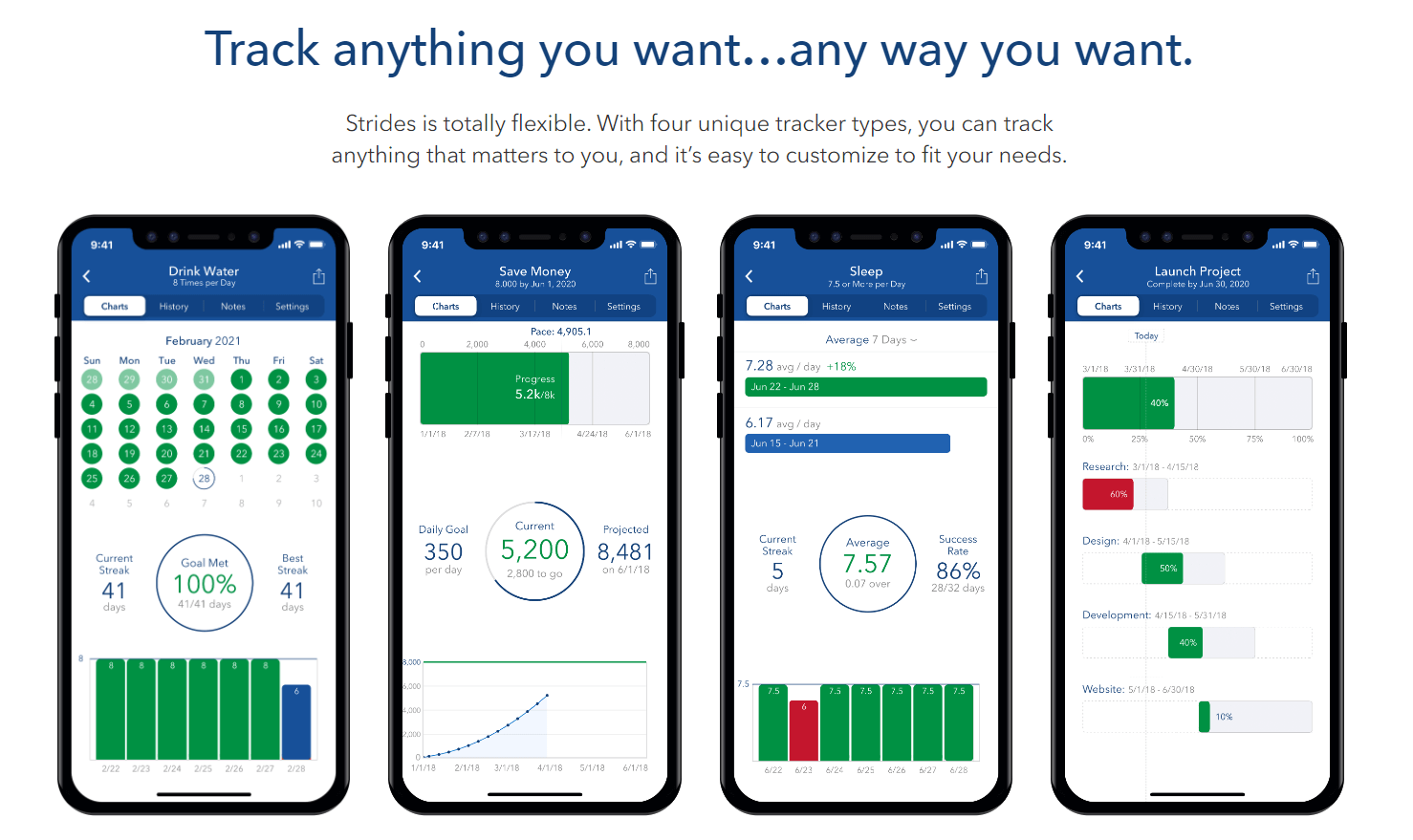 nTask

If you want to track your personal goals and be constantly motivated and accountable for the work you're doing, go for nTask. The goal tracking app claims to help you break down complex projects into simple, measurable and achievable goals through a set of easy-to-use templates and step-by-step guides. To keep you motivated, it has daily and weekly overview systems, milestones and a communication forum where you can share progress reports and exchange notes with other people using the app.
Pros
Simple, efficient, and available for different devices
Customization based on needs
Cons
Time-consuming and complicated process to set the perfect tools
Monitoring progress takes some effort
LifeRPG

LifeRPG is perfect for those who find motivation through games and want to bring that into the real world. The goal tracking app sets your tasks into one big game, where you can tackle different "quests" and level up upon task completion, earning rewards. You can also organize your task quests by priority or energy level.
Pros:
Customized gamification to keep your goals fun and light-hearted
Reward system to keep you motivated
Great free version and an affordable premium version to use without ads
Cons:
Not suitable for professional or team goals
Not available for Apple devices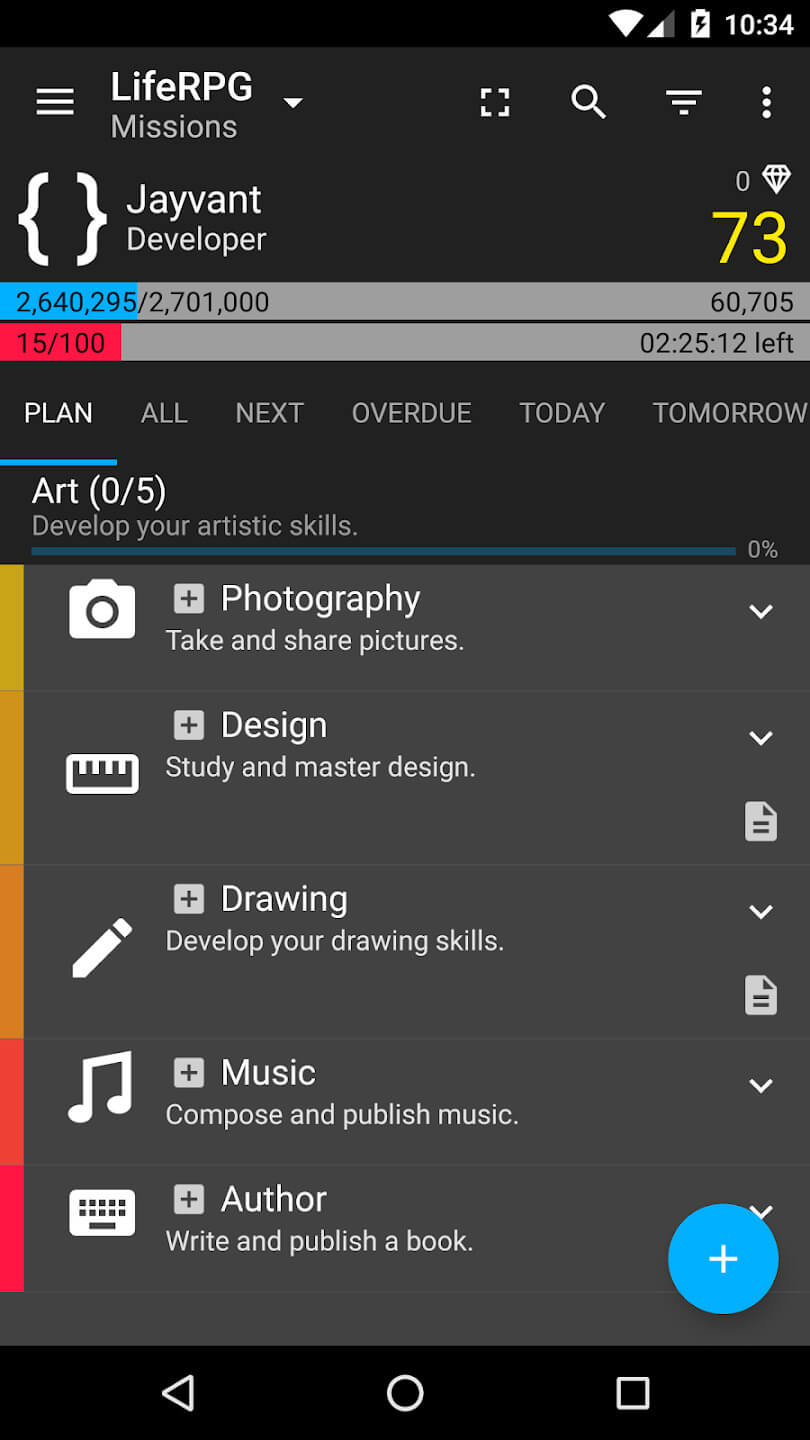 Clockify

Clockify, like the name suggests, majorly focuses on time tracking of goals. It has a calendar where users can visualize and manage their larger schedule, along with features to track time spent on individual projects. For team projects, managers can also see how much time each member is spending on their work and how much progress they're making.
The USP of the product is that it also caters to people who like to work with Pomodoros!
Pros:
Break down multiple goals into smaller manageable tasks
Dashboard to track productivity and progress
Time-based analyses of tasks
Pomodoro timer to help users stay focused on tasks
Cons:
Mobile app has limited features and functionality
More suited for team goals
Coach.me

Coach.me has two areas of focus-habit tracking and accountability coaching. To start with, simply pick a goal, set targets and get tracking. If you like the app, you can also hire real coaches to offer personalized and leadership mentoring so you can reach your goals.
Pros:
Cons:
No community engagement and activities
Not ideal for achieving goals related to health and fitness
Way of Life

If bar charts and graphs are your thing, try Way of Life. Through data visualization, it shows you what you're doing right or wrong as you try to reach your goals. It also gives an idea of what actions are good or bad in terms of reaching your targets.
Pros:
Helps you follow and develop good habits, and break bad habits
Simple and intuitive interface
Cons:
Free version only tracks up to three habits
Too many details may end up confusing users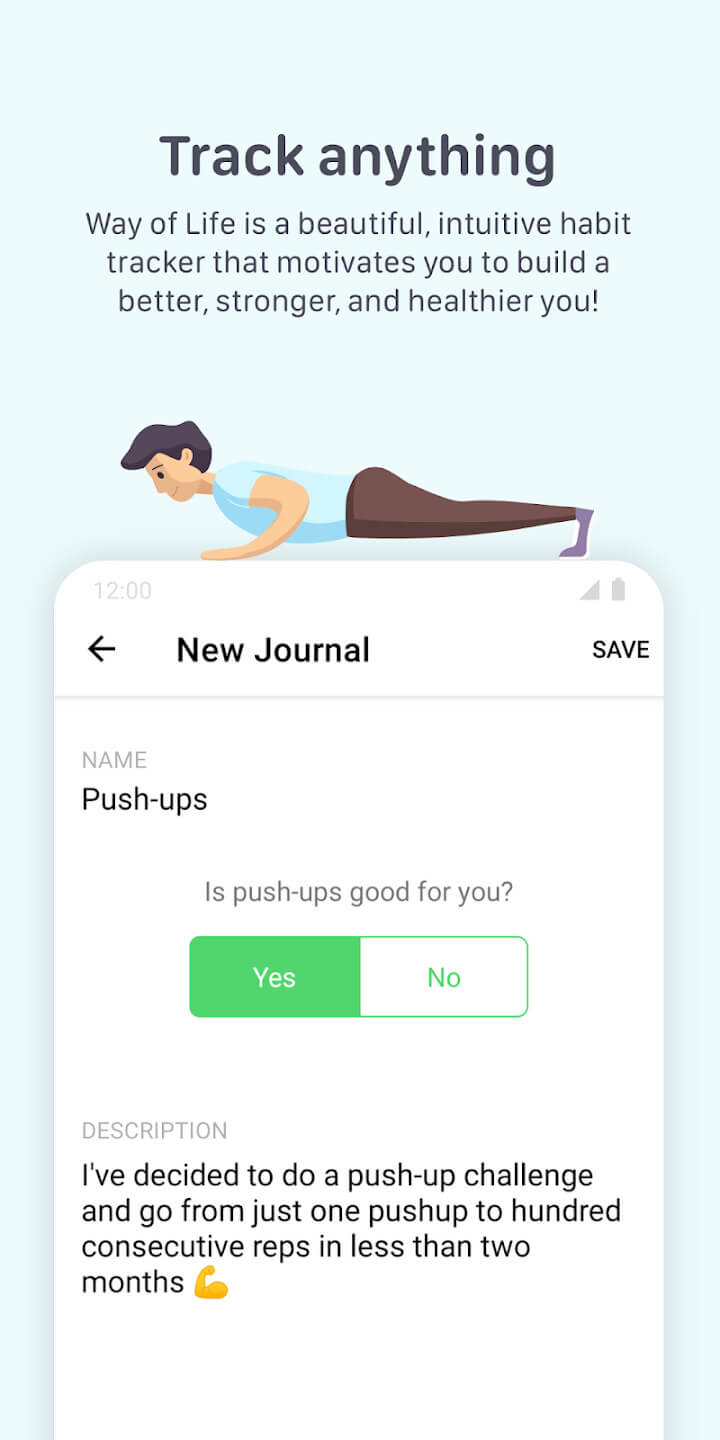 🙌
If your goal is to make sure you're actually
getting stuff done
check out
Boss as a Service
. We match you with a personal Boss who'll check in on your planned todos, and make sure you don't fall off track.
GoalsOnTrack

GoalsOnTrack is centred on the SMART goals method. It's great for daily, weekly and monthly personal goals, allowing for breaking down of steps, management of habits and it even has a journal for you to take personal performance notes.
Pros:
Sets SMART goals
Supports both personal and business goals
Vision board, data visualization and journal tools
Cons: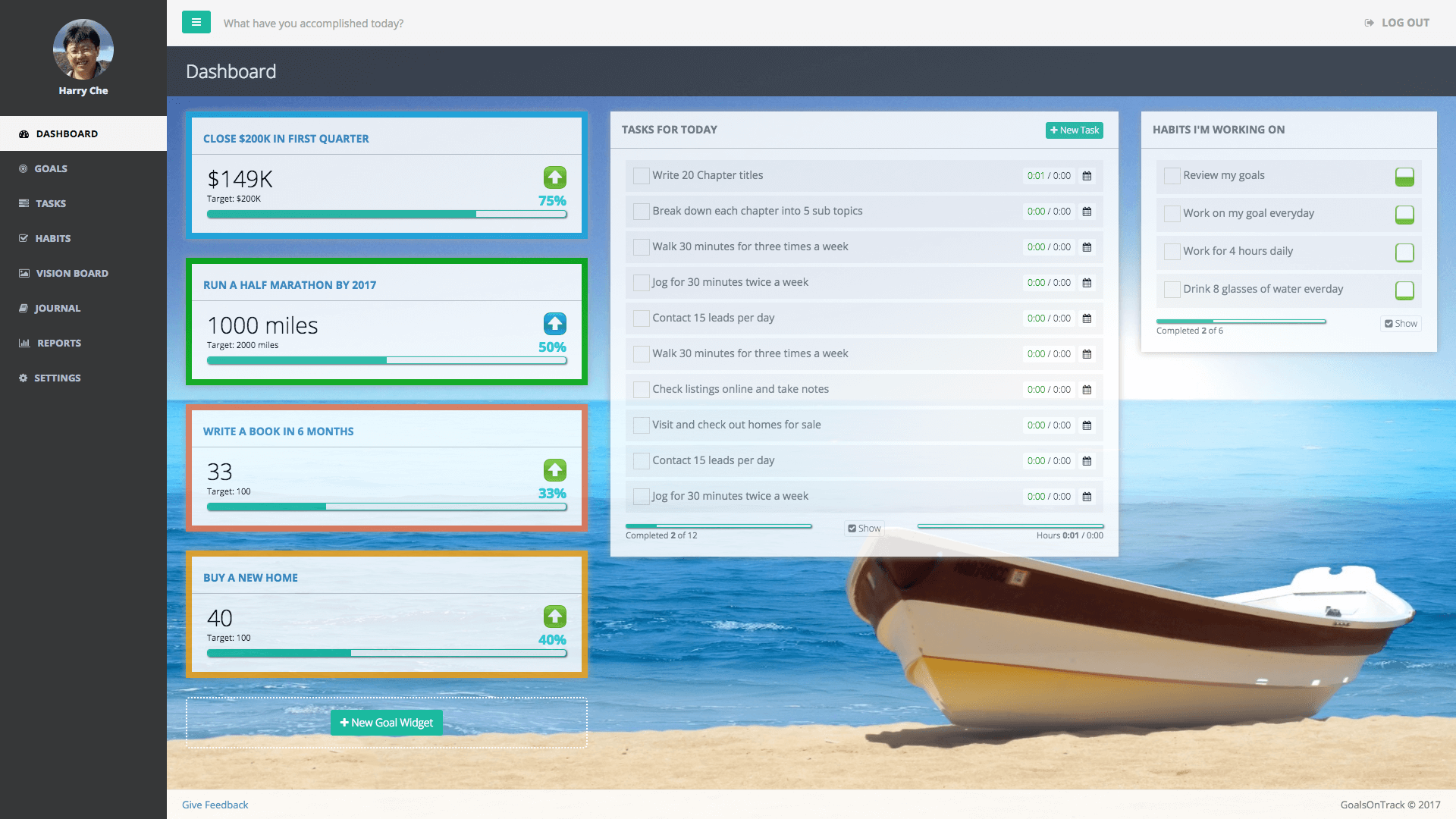 Habitica

Another app based on gamification, Habitica also lets you set up your tasks like quests and level up and earn rewards as you complete them, As an added bonus, it has a multiplayer-like feature where you can go on quests with other app-users and earn personal rewards.
Pros:
Video game like approach to productivity
Positive reinforcement through rewards
Con:
Depending on your budget, might be an expensive subscription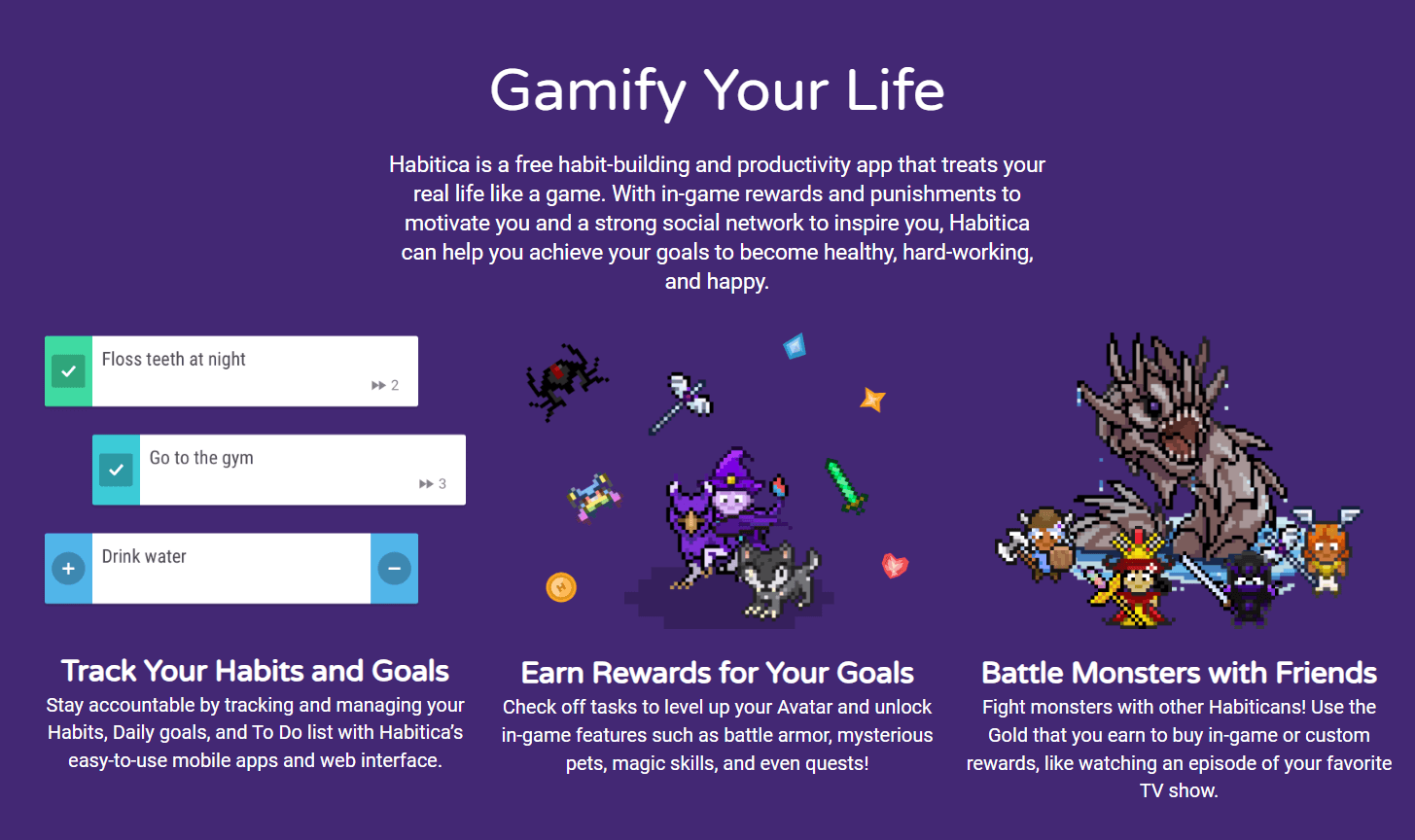 Hive

Hive is another work management tool, which has a cloud software to allow eam working remotely to create projects, track progress and communicate with each other. It also has options to automate recurring tasks for better efficiency.
Pros:
Great for professional and team goals
New-age technologies like AI for workflows and collaboration
Available on all popular operating systems
Cons:
Not great for personal goals and habits
Mobile app has reduced functionality as against the desktop app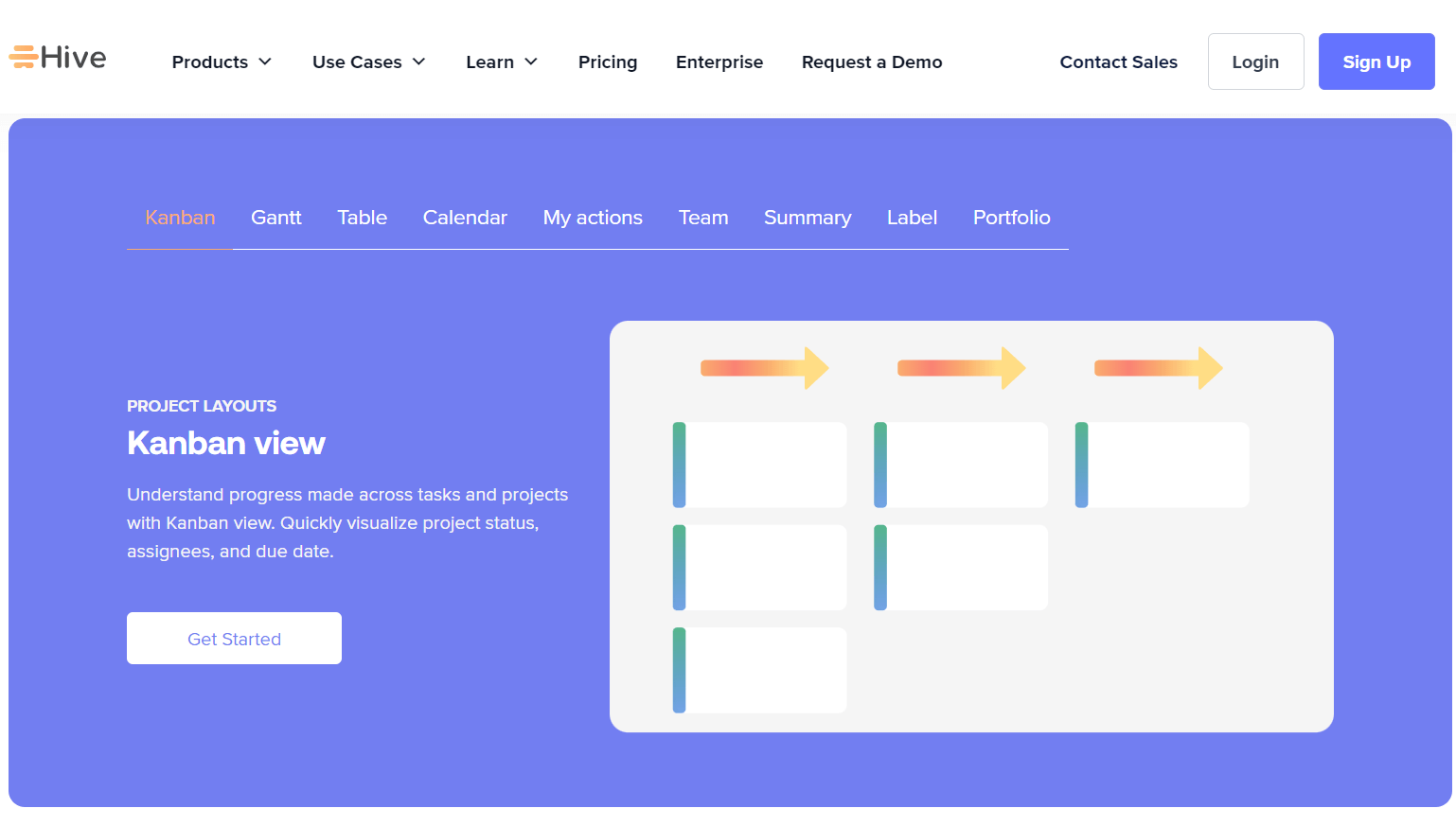 Trello

Trello is a great progress tracking and organization app for more structured goals. Users can create multiple boards and lists based on project, timelines or focus areas and track their own progress reports as the go through the steps. They can also share the boards with teams or accountability partners.
Pros:
Free version and several plans to choose from
Great for personal use
Con: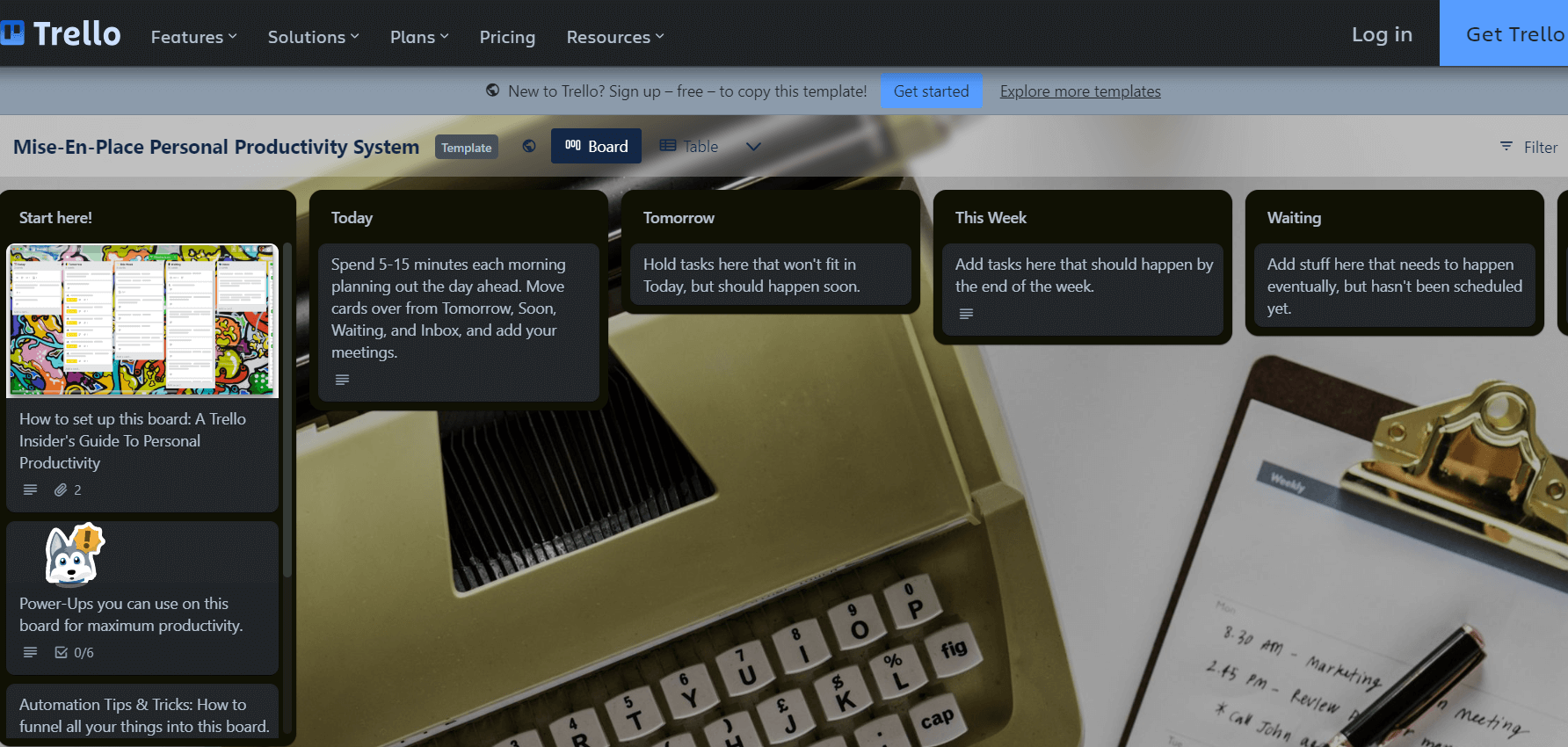 Todoist

Todoist lets users create elaborate to do lists with big goals, tasks, subtasks, and so on. It helps you simplify your schedule so you're spending more time getting things done than you are on fixing deadlines.
Pros:
Personalize your workflow and projects
Ready-to-use board templates to track progress
Cons:
Some features like reminders are locked in the free version
Updates are reported to cause glitches in the workflow
ToodleDo

Toodledo is another to do list app, but with more flexibility. You can customize your tasks list, add notes, team up with others, and track your habits as well. And all of it can be synced to the cloud, and with other devices.
Pros:
Range of organizational features like folders, tabs
Can be synced across devices
Cons:
Android version is reported to not have some key features.
Lifetick

Lifetick combines S.M.A.R.T. goals with data visualization. While this is only available through web browsers, it has several key features to help you see the big picture, set small goals towards it and track your progress.
Pros:
Journal tool for notes
Data visualization
Con:
Amazing Marvin

Amazing Marvin is a task management tool that allows users to set personal goals, organize to do lists and calendars and share this with their team so everyone can monitor and collaborate with others.
Pros:
Each of its 50+ features can customized.
Great for personal productivity
Cons:
Depending on budget, you might find it expensive – though in our personal opinion, it's very much worth it!
How to choose from the best goal tracking apps

There's now an array of goal setting and goal tracking apps to choose from. How do you pick one? Here are a few things to keep in mind.
Pricing

The free goal tracking apps usually have a lot of key features locked away in their premium version. So be prepared to get subscriptions, if you want more than the lightweight features! Of course, be aware and conscious of how much the app costs – it would be kind of ironic to pay for an app that messes up your financial goals!
Features

Think about what kind of help you need from the app. Do you need help in setting your goals itself, or just getting them into a more organized structure? Would daily reminders help you better? Or do you just want a whiteboard where you can write down all your thoughts, your to do lists, and refer to them to make up your mind when you need it? Try to answer these questions and match them with the key features that your ideal app would have.
Complexity

You want your goal setting app to be as easy to use as possible. Part of the reason you're using it is speed and efficiency, which is simply not achievable if you're spending hours trying to set up things the way you want.
Platform

Consider where you'd be most comfortable using the app. Do you want the desktop version, or on your phone. And if its the latter, does the app support Android or iOS, or any other operating system? Stick to the platform you already have and love, otherwise, you just won't be inclined to switch devices to use the app as much.
Stickiness

Once you've narrowed it down to one goal setting or goal tracking app and signed up, remember to have a mindful review after a few days. Do you have to constantly remember to use the habit tracker app, set reminders, or has it become a natural part of your day? Do you have to constantly remind yourself how to enter and set up goals, or is it quick and efficient? Basically, think about whether the goal tracker app is "sticking" well before you continue with it.
How BaaS helps in goal setting

We can't wrap up the article without a plug for Boss as a Service!
But seriously – if you're still in doubt, Boss as a Service is a great choice. Your personal Boss will help you create and execute on your goals.
With BaaS, you get the human factor: we connect you with a real person, who acts as a Boss, who can understand your ambitions, intentions and obstacles, and work with you to set suitable targets, big or small. Having someone who can understand your realities also brings in the option to make dynamic to do lists with room for flexibility exactly where it is needed.
In a way, BaaS also works well as a goal setting app of sorts. We keep you accountable for the tasks you have set, track your goals and monitor your progress for you, so we know exactly how and when you need the note of confidence or firm push to keep going!
Using BaaS with a goal tracking app

If you want to stick with a goal setting app, but like the idea of accountability with BaaS, why not try both? Our bosses are quite familiar with and work often with other goal tracking and setting apps like Trello, Todoist and Marvin. So, it's just a matter of setting goals, and the boss will monitor the app with you and make sure you're getting things done!
And, we too, have some bonus features to share! With our friends at Beeminder and StickK, we provide the extra motivational – and monetary – nudge for you to stick to and achieve goals!
Final thoughts
Goal setting apps are a game changer in productivity, and worth a try if you really want to push to really achieve success on those big projects!